Scherber Companies provides trench shoring systems services in Bridgewater and throughout the Twin Cities, MN area.

When you choose Scherber Companies you can rest assured your project is being handled by an experienced, knowledgeable team.

We are specialists in demolition, excavating, grading and rubble removal services with experience and equipment to do what needs to be done the right way.

Wetland Restoration
Scherber Companies' fleet includes specialized equipment to meet a variety of requirements for wetland restoration projects.

Helical Anchors
Helical anchors are commonly selected for earth anchoring applications because they are quick to install and can be proof-tested and loaded immediately with no concrete to cure or de-watering of the excavation to deal with.
Get a Quote For Your Project
We are also experienced in all types of piling and shoring in limited access and low-headroom conditions. We perform this type of work as a prime contractor and as a subcontractor. With professional engineers on staff, we have the expertise, knowledge and experience to design and construct your complex earth retention, shoring or underpinning project.
Our team will properly install lifting and stabilizing beams to shore your building or wall to make it safe for construction procedures. We will work with your construction team to review the necessary plans and time our shoring process to meet your project deadline.
Earth retention design and construction
Design/Build soil retention systems
Foundation construction
H-piling, tube piling, sheet piling and timber piling installation
Trench Shoring Bridgewater MN

Shoring Excavation Services
Shoring is the process of temporarily supporting a building, structure, or trench
Shoring is the provision of a support system for trench faces used to prevent movement of soil, underground utilities, roadways, and foundations. Shoring or shielding is used when the location or depth of the cut makes sloping back to the maximum allowable slope impractical. Shoring systems consist of posts, wales, struts, and sheeting. Scherber Companies is available to assist you in selection, use, design, or in trouble shooting any shoring problem
We have a wide variety of equipment and tools to quickly and efficiently complete your shoring project and prepare your property for any type of construction. From front loaders and backhoes to hydro excavation equipment, we work on all types of jobs. No matter the size of the shoring excavation project, we'll get the job done and prepare the property for the next steps in the building project.
With our staff of experienced professional engineers, we design and construct temporary earth retention systems, tiebacks and conventional underpinning. Our specialized equipment allows for installations inside existing buildings and structures and in many low-headroom situations. We are experienced in installing  shoring systems with very tight constraints. We also do sheet pile and bearing pile installations.
Shoring is the process of temporarily supporting a building, vessel, structure, or trench with shores (props) when in danger of collapse or during repairs or alterations. Shoring comes from shore, a timber or metal prop. Shoring may be vertical, angled, or horizontal.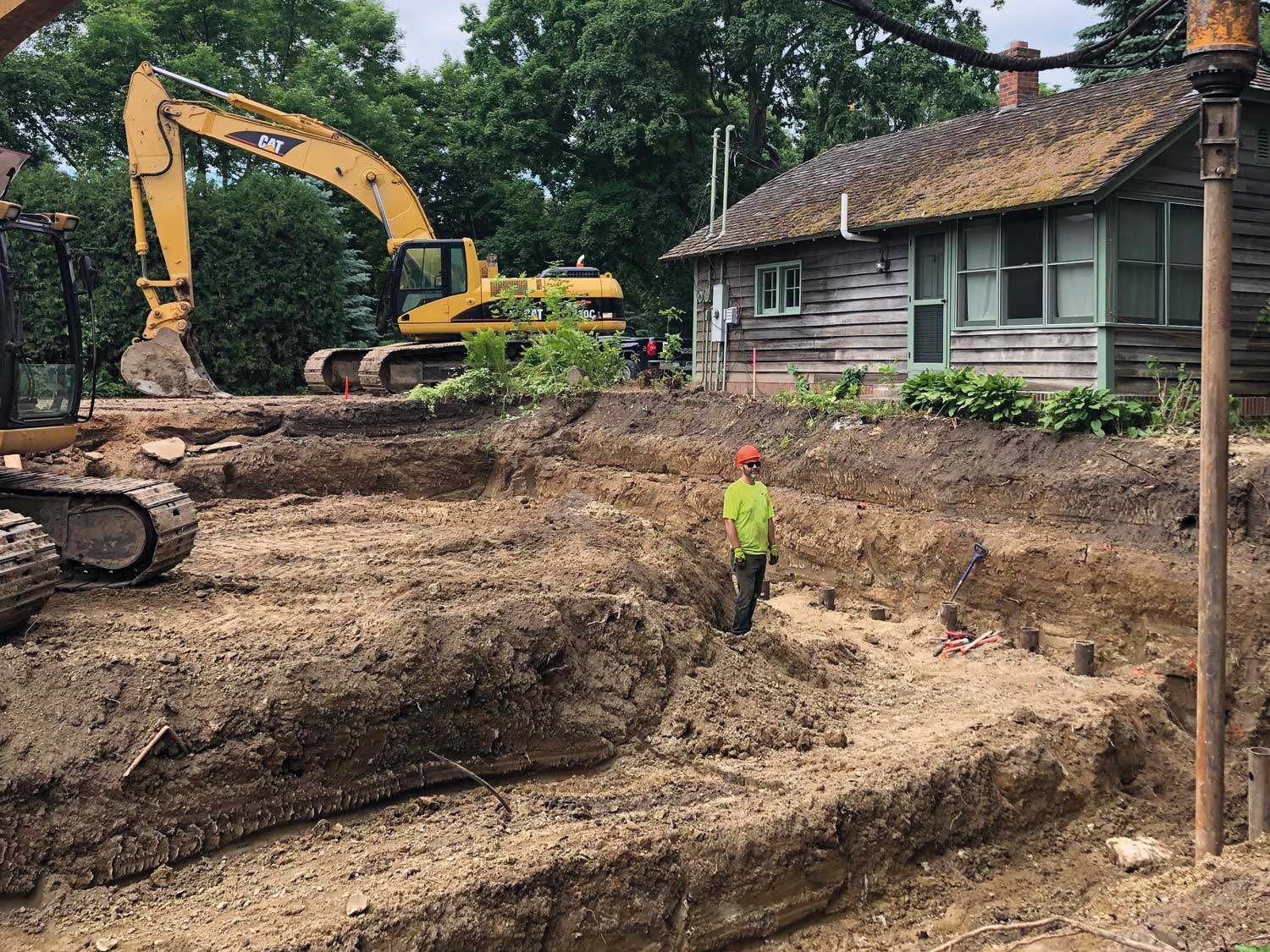 Call For a Quote:
(612) 282-7403
To learn more about our capabilities, or to request a bid for your next commercial project, call Scherber Companies at (612) 282-7403. Contact us today to learn more about how we can get your project started off right – on schedule, on budget, and with perfect accuracy
 
We Offer More Services Near Bridgewater!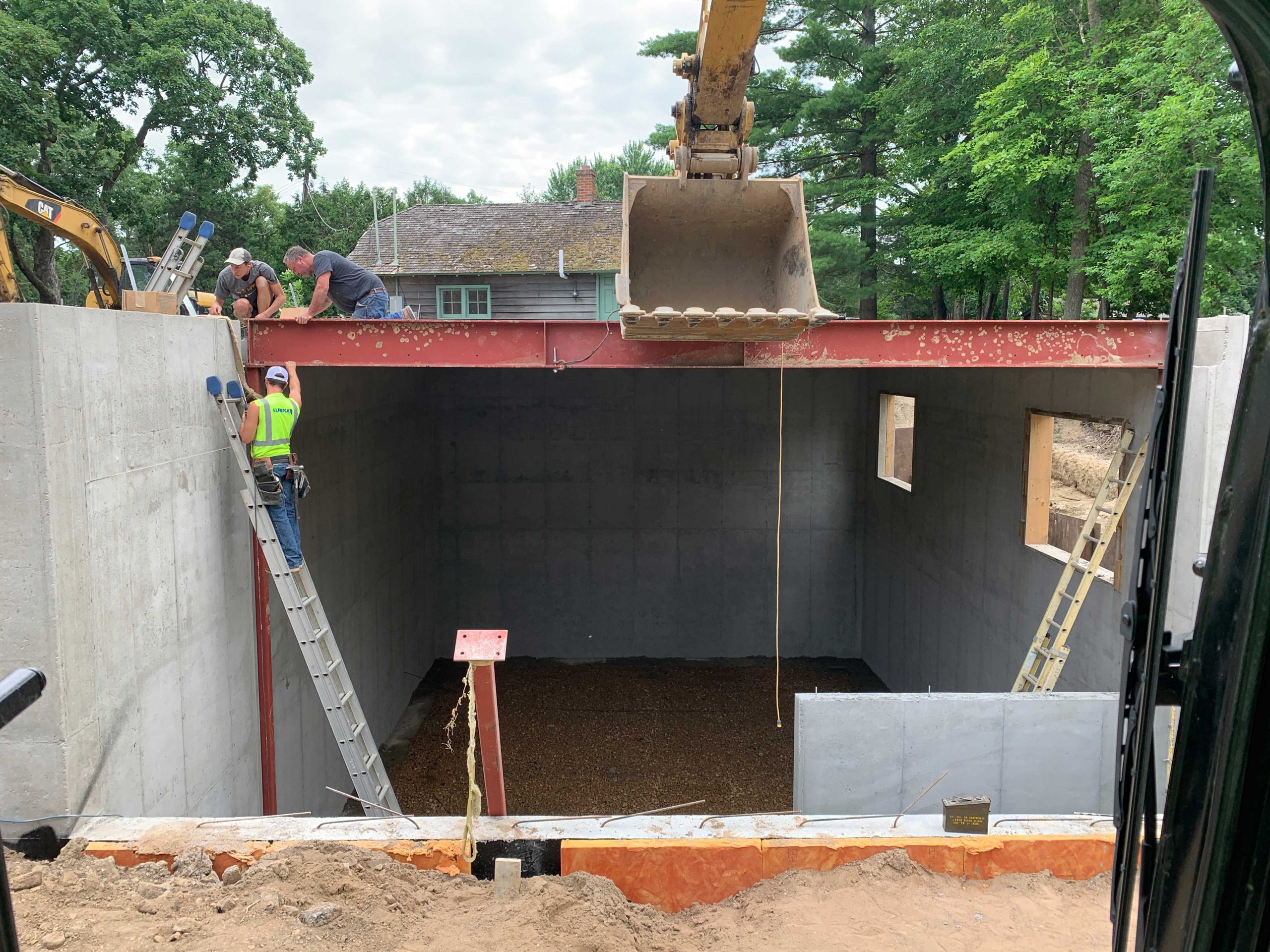 The project was very successful, and Scherber Companies is extremely professional and genuinely cares about their work. I've already had neighbors stop by and state they're extremely impressed with not only the work they did, but the care and cleanup of our property afterwards
Scherber Companies was polite & professional from the owner to the guys "in the trench." Work was done Sep 2015. I wish this dedication to customer service was more prevalent in today's businesses. I recommend this business, and you are welcome to contact me to verify.
Very professional and trustworthy their prices are quite fair, especially considering that they are very trustworthy, dependable, and they do top notch work. The courtesy, urgency, and attention to detail shown, was outstanding. In the future, I will call Scherber Companies without hesitation!

Our services include: residential excavation, foundation drain installation, back filling, grading, earth-moving and hauling, erosion control, and land-clearing.

We are highly knowledgeable about the building codes, which are extremely necessary for water & sewer installations.

With an experienced staff of operating engineers, Scherber Companies can stage a safe, multifaceted excavation, under the most grueling circumstances.

Rain Water System
We provide a full suite of services for rainwater harvesting systems, depending on your exact need or phase of development

When installed properly, can provide a sturdy, code-approved foundation for a raised backyard deck