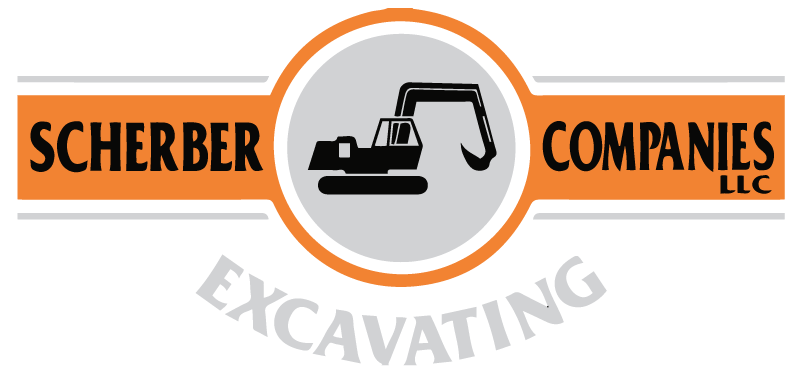 Demolition | Excavating | Sewer & Water | Helical Anchors

Our services include: residential excavation, foundation drain installation, back filling, grading, earth-moving and hauling, erosion control, and land-clearing.

We are highly knowledgeable about the building codes, which are extremely necessary for water & sewer installations.

With an experienced staff of operating engineers, Scherber Companies can stage a safe, multifaceted excavation, under the most grueling circumstances.

Rain Water System
We provide a full suite of services for rainwater harvesting systems, depending on your exact need or phase of development

When installed properly, can provide a sturdy, code-approved foundation for a raised backyard deck
Our Equipment
Our skilled and experienced operators use late-model, state of the art, quality equipment that is professionally & meticulously maintained, and in impeccable condition, for maximum reliability and efficiency – allowing us to meet aggressively scheduled projects.
​Our fully encompassed fleet of company owned equipment allows our team of talented, certified local excavation experts the ability to handle any type of concrete, asphalt, or excavation project.
​Part of our modern, high-tech fleet boasts laser and GPS equipment which helps complete your project on time or ahead of schedule, without compromising accuracy or budget requirements.
With our laser and GPS-guided dozers, we can build the site as the engineer designed to within a tenth!
No Project Too Big Or Too Small | Excavation | Demolition | Trench Shoring
Expert Excavating Services
Get reliable service from an experienced excavating contractor by working with Scherber Companies. Our staff are dedicated to ensuring that our excavating company works to the best of our ability and is always fully accountable to you, the client.
Scherber Companies offers everything needed to prepare your site for construction. Often, projects require the complete list of our services, but we'll work with you to customize these offerings with your specific job.
Scherber Companies We've Been Excavating For Over 20 years
We have a wide variety of equipment and tools to quickly and efficiently complete your excavation project and prepare your property for any type of construction.
The project was very successful, and Scherber Companies is extremely professional and genuinely cares about their work. I've already had neighbors stop by and state they're extremely impressed with not only the work they did, but the care and cleanup of our property afterwards
Scherber Companies was polite & professional from the owner to the guys "in the trench." Work was done Sep 2015. I wish this dedication to customer service was more prevalent in today's businesses. I recommend this business, and you are welcome to contact me to verify.
Very professional and trustworthy their prices are quite fair, especially considering that they are very trustworthy, dependable, and they do top notch work. The courtesy, urgency, and attention to detail shown, was outstanding. In the future, I will call Scherber Companies without hesitation!